All City Mold Removal in San Jose CA: 12 yr Warranty on Your Service!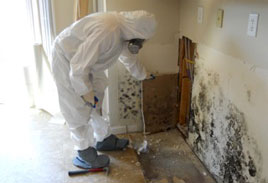 All City Environmental is now providing mold removal, mold remediation, mold inspection, and mold testing services in the greater San Jose and South Bay Area. Did you know that having mold in your house can be toxic to you and your family? While it can be dangerous for everyone, small children are especially susceptible to sickness when exposed to mold. If you think you may have mold in your home, you need to act now. By getting a mold inspection in San Jose, you can find out if you have levels of mold in your home that will make you and your family sick.
With Over 10 yrs experience specializing in mold removal, mold remediation, and mold inspection.

We offer services that range from mold removal, mold inspection, mold testing, and mold remediation in San Jose. We get rid of it fast and efficiently so that you can rest at night knowing your family is safe. While any home can have mold, you are especially prone if you have recently had water damage, such as a leaky pipe or a flooded basement.
Mold likes dark, damp and dry environments, so if you have this in your home, you need a San Jose mold removal service today. The longer you are exposed to mold, the worse the symptoms can become, but even being exposed for a short while can be life threatening, especially to those with weak immune systems, such as children or the elderly. Pets that stumble upon moldy areas can get extremely sick as well.
Get Results With All City Environmental's Mold Services:

Over 10 yrs. experience

The BEST Warranty in the Business: 12 yr. Warranty

Certified and Licensed in the State of California

Friendly, Fast, Professional Service


Hire a team you know You Can Trust to deliver a superior mold removal service. San Jose residents Call Now (408) 676-5321
Don't take a chance when it comes to mold. If you had a situation of late that you think may have caused mold in your home, you need the services of a professional mold testing company in San Jose and depending on the laboratory test results, our San Jose mold removal services can help. The longer you let it grow, the more damage it can do to your home and your family.

Give us a call or send us an email and set up an appointment with our San Jose mold removal professionals today
Serving the Greater San Jose South Bay Area including: Sunnyvale, Santa Clara, Los Gatos, Fremont, Morgan Hill, Menlo Park, Castro Valley, San Mateo, Campbell, and more! If you are in San Francisco Click here for our San Francisco division.